Sick of Being Stuck is reader-supported. When you buy through links on my site, I may earn a commission. Disclosure.
We've all been there. Everything is fine until all of a sudden, your face develops pimples, blackheads, breakouts and you're in for the battle of your life. As soon as you fix one breakout, another one starts.
I have had breakouts since I was in 7th grade and have tried about every claim for the best acne face wash out there. The fight against acne goes way beyond the surface level.
It's emotional impact on your confidence, social interactions and self-esteem can leave anyone feeling isolated and dressed. Trust me, I have been in your shoes and would rather watch paint dry than watch a new zit form on my face!
While there is no permanent cure for acne, there are some market solutions to get a clear, healthy glow that really lasts. From all of my trials and errors, I have found a few best acne face wash options that I would recommend in certain situations.
Whether you're a teen who wants to get a handle on acne before it gets worse, or an adult who has been fighting the battle for decades, I've got you covered. Here's the best acne face washes from the one who has tried them all.
Key Ingredients to Look Out For
Let's start with the basics: ingredients. Any of the best acne face washes should have at least one of these key ingredients: salicylic acid, glycolic acid or benzoyl peroxide. These are the acne powerhouses. The best acne face wash will include at least one of these. However, there are some natural options that are surprisingly effective that I have included as well.
How Does Acne Face Wash Help Different Skin Types?
The key to finding the best acne face wash that will actually work is to know how acne face wash helps different skin types. There are normally four types of skin: normal, oily, dry, and combination.
Oily skin is easy to identify – you have oil on your face that feels greasy throughout the day.
Dry is also pretty easy to spot, your skin likely feels flaky and itchy.
Combination skin is usually dry first, but can get oily by the end of the day, or some parts of your face remain dry while your T-zone can be oily.
If none of these sound like you, you're one of the lucky ones with "normal" skin.
How to Choose the Best Acne Face Wash for Your Skin Type
The best way to choose the best acne face wash is to first, look at the active ingredients and then listen to your skin. Pay attention to what your skin is telling you it needs. If your skin gets red and itchy, it's screaming for relief. If it gets worse, it needs additional help. Start out by going easy on your skin – you can't scrub acne away, so stop trying. Excessive exfoliation and bad or strong ingredients can hurt more than help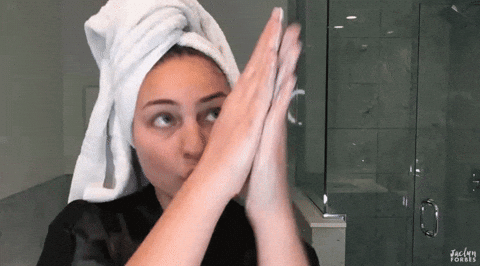 Other than the kits listed below, these are all of the best acne face washes that I have found through my research for under $100. The best in my opinion are ones that have the least amount of ingredients and unnecessary physical exfoliants. Instead, I want you to opt for a best acne face wash below that fits your skin type, and if you are able, has a chemical exfoliant added like salicylic acid, benzoyl peroxide or other AHAs/BHAs.
Also, you may see more SkinCeutical products linked below but that is because I have personally used these products and found them very helpful in my acne journey. I also love that their website is so easy to use and find exactly the best acne face wash for your skin type and concerns.
BEST ACNE FACE WASHES
Best FULL Treatment Systems for Stubborn Acne
Exposed Skincare Kits
Exposed Skincare can clear acne in less than 30 days with 98 percent success, and a 1-year guarantee. These bold claims are backed up by both science and nature working together. You can learn more here on exposedskincare.com.
The three-step system opens up the blocked pores, kills the bacteria, and calms the skin.
There are separate serums for day and night to ensure the best results.
The results with this system have shown to be even better than the leading acne prescription.
All products are backed with a 1 full year money-back promise.
Over 250,000 people have used Exposed skincare. Both men and women from adolescents to adults agree that the system delivers the results it promised in record time. Most reviewers saw results in about a month and continued to use the system for years because of the benefits. There is no question I would recommend Exposed Skincare for the best acne face wash, even if you've tried everything else – you haven't tried this yet.
Proven Skincare
If you're looking for a custom skincare product manufactured and blended for your individual skin, you've found it. Proven Skincare starts with a 3-minute skin genome quiz. This quiz was developed by three Stanford scientists to analyze 47 different factors about you to identify the right ingredients for you.
After your skin is assessed, Proven Skincare manufactures your regime exclusive for your needs. You can take the quiz for your skin here.
Proven offers three products for each customer a cleanser, moisturizer, and night cream.
Each combination is selected by award-winning technology and leading dermatologists.
Free reformulation if you don't see results.
Made in the USA with no Parabens, Phthalates, SLS, or Formaldehydes.
Proven Skincare has hundreds of customer reviews and has been featured on some of the biggest platforms in the country including CBS, The New York Times, Forbes, CNBC, Huffington Post and Allure Magazine. Customers love that it's just two products instead of 3 (or more) and the custom ingredients create real results. I love knowing this best acne face wash is made just for me. Take the quiz and learn more here.
Paula's Choice
Sometimes even the best acne face wash can be harsh and drying on the skin, but Paula's Choice is different. It's specially formulated to be gentle on the skin without causing excessive dryness, flaking, redness, or discomfort to your skin. If you have acne that hurts to even touch, this might be the best choice.
Works well with cystic acne.
Kit includes a cleanser, exfoliator, and skin clearing treatment.
80% of users saw clearer, smoother, and healthier looking skin.­­­­­
From over 250 reviews, Paula's Choice has an average score of 4.23/5 stars. The biggest benefit most reviewers stated is that the product feels lightweight and non-greasy on the skin.
Most users agree that with daily use, it has definitely improved their skin. This makes it easy to add Paula's Choice to our list of best acne face wash treatment systems. Learn more here.
Best Face Wash for Adult Acne
SkinCeuticals LHA Cleanser Gel
Skinceuticals LHA Cleansing Gel (and kit) is the winner of the 2018 Healthy Skin Award from Women's Health Magazine and it's easy to see why. This cleanser is specifically formulated for both acne prone and aging skin by combining powerful ingredients to give your skin the love it needs.
Ideal for daily cleansing to avoid breakouts without over drying aging skin.
Cleans out blemishes and also reduces visible signs of aging at the same time.
Over 170 product reviews give the Skinceuticals Cleanser Gel a 4.6/5 stars. Over 97 percent of reviews recommend this product to friends or family. The cleanser gets extremely high marks, with reviewers commenting on the reliability, budget-friendly price, and a more adult product for their aging skin. If you're an adult who is still struggling with acne, I'm confident in recommending SkinCeuticals to you.
Peter Thomas Roth Acne Clearing Wash
Peter Thomas Roth Acne Clearing Wash is an Amazon cult favorite that deep cleans aging skin without over drying. As an influential segment leader in the beauty industry, Peter Thomas Roth is known for being a results-focused innovator delivering breakthrough formulas in all of his products.
The clearing wash is just one effective product that doesn't require any additional steps.
Ideal for daily cleansing, removing makeup, and caring for sensitive skin.
Easy to use and doesn't leave any greasy feeling.
Amazon ratings and reviews give the Peter Thomas Roth cleanser a 4.5/5 stars. Most commented how nice the cleanser feels on sensitive skin and the pleasant scent. If this sounds like best acne face wash for you, head to Amazon and check it out here.
I highly recommend pairing either cleanser with this Blemish and Age Defense serum from Skinceuticals. If you are unfortunate enough to have acne AND wrinkles (which is a curse) then use this nightly to help combat both stages of life.
Best Acne Face Wash for Oily Skin
La Roche-Posay Effaclear Dermatological Acne Treatment 3-Step System
Almost 1000 Amazon ratings and the winner of the Allure Best of Beauty award for three years in a row. Enough Said. For oily skin the La Roche Posay system is a clear choice for the best acne face wash.
The 3-step system reduces 60 percent of acne in just 10 days.
Visible results begin almost immediately, no more waiting for your acne to clear up.
Each product is free from oils, fragrance, parabens and is non-comedogenic.
La Roche Posay is the number one acne skincare brand in European Pharmacies and has made its way to the United States in a big way. Today, La Roche Posay is recommended by 90,000 dermatologists worldwide. Each product is developed with dermatologists to enhance the treatment available to their patients. Almost 70 percent of reviewers gave this product a full 5-star review. This makes it easy to recommend this system for one of the best acne face washes available on Amazon.
OLEHENRIKSEN Find Your Balance Oil Control Cleanser
OLEHENRIKSEN Find Your Balance Oil Control Cleanser is a lesser-known brand that delivers amazing results. This formula was developed by Ole himself who had firsthand experience with harsh oil control cleansers. He wanted to create an alternative to stripping cleansers, and that is where the Green Fusion Complex was born.
The Green Fusion Complex is a proprietary blend of potent active botanicals—including green tea, eucalyptus, algae (kelp), and Irish moss extracts—with natural antiseptic properties to help absorb excess oil and refine pores.
No parabens, sulfates or phthalates are used in any products.
This cleanser has a 90 percent approval rating from users on Amazon.
One reviewer called this product the "holy grail of face wash for oily skin" and loves that it balances the skin oils all day. This best acne face wash delivers results that are difficult (or nearly impossible to find anywhere else). Customers commented on the scent and the value as well as obvious results with consistent use. If you have oily skin that is prone to breakouts, this might be the best acne face wash for you. Check it out here.
Best Acne Face Wash for Sensitive Skin
Fresh Soy Face Cleanser
Fresh has been a favorite of beauty gurus forever by combining natural ingredients with ancient rituals and modern science to deliver powerful products.
The soy cleanser is their bestselling three-in-one face wash that melts away makeup (including mascara) and gently cleanses skin.
Contains soy proteins to help skin maintain its elasticity and supple nature.
This best acne face wash also includes cucumber extract and rosewater to calm sensitive skin.
No parabens, sulfates or phthalates are used in any products.
Features a 90 percent approval rating from users on Amazon.
There are well over 10,000 combined reviews between Sephora, Amazon, and the Fresh website and it continues to be a best seller with an average rating of 4.5/5. The best quality for most users is the way their skin feels after using it and the fresh scent.  This makes Fresh a clear pick as a top contender for the best acne face wash, check it out here on Amazon.
Avene Extremely Gentle Cleanser Lotion
Avene is a gentle, plant-based, no-rinse cleanser that is different than anything you've tried before. Instead of rinsing off the cleanser, like you normally would – Avene is completely different. Avene has been serving sensitive skin for 270 years and nobody knows more about caring for sensitive skin than they do.
After you've applied the cleanser, you simply use a tissue to take off the excess and you're done, no rinsing necessary.
This cleanser/lotion combination is one of the best acne face washes for sensitive skin.
Sterile Cosmetics is the first and only solution that completely eliminates preservatives and keeps only the essential ingredients for the skin, making it ideal for sensitive skin.
Avene understands sensitive skin, and hundreds of reviews on Amazon show how effective it is. With an average rating of 4.5/5, most reviewers praise Avene particularly for calming dermatitis, extremely sensitive skin, hives, and redness of the skin. If you're suffering with sensitive skin, this could be the best acne face wash for you. Check it out here.
Best Face Wash for Redness Prone Skin
Dermalogica Ultracalming Cleanser
Dermalogica was founded by skin therapists across the globe to create products and services that actively improve skin health. The Ultracalming Cleanser is one of the best on the market for reducing redness because of its high quality ingredients and innovative science.
This pH-balanced, non-foaming cleanser fortifies skin's protective barrier without leaving an irritating residue
You can choose to either rinse it away or wipe it off, which is ideal for sensitive skin.
This cleanser is paraben-free, vegan, and gluten free.
Dermalogica Ultra Calming cleanse is one of their top selling products with hundreds of positive reviews. Customers vote this the best acne face wash for the gel formula, which isn't itchy, flaky, or reactive. Even on skin that is sensitive to water, this cleanser takes the cake. For sensitive skin users, this is an easy product to recommend. You can learn more and purchase Dermalogica here.
Skinceuticals Soothing Cleanser
The same company with one of the top-rated adult acne systems also has the best acne face wash for treating skin with redness. Skinceuticals Soothing Cleanser is formatted with botanical extracts to actually dissolve the impurities in your skin while soothing redness.
The Soothing Cleanser is soap free foam that transforms on contact.
This also works great after spa treatments to calm redness while skin feels sensitive compromised, or especially reactive.
Paraben-, sulfate-, soap-, synthetic-fragrance-, dye- and alcohol-free
The key ingredient is A sugar alcohol found in plants with a protective outer skin.
By using the power of a natural humectant to draw water to skin's surface, the soothing cleanser uses the body's own power to heal redness and irritation. Positive reviews show both the effectiveness and the "clean but soft" feeling left behind after using Skinceuticals Soothing Cleanser. If you have red, sensitive skin, check out Skinceuticals Soothing Cleanser here.
For more serious redness relief you can check out the Redness Neutralizer also offered by Skinceuticals.
Best Acne Face Wash for Dry Skin
Lancer Skincare The Method: Cleanse
Wish you could get the same skin as the Kardashians? Turns out, you can! Lancer Skincare was developed by Dr. Lancer who is both a dermatologist and a plastic surgeon who owns a private practice in Beverly Hills for more than 30 years. Now, his products include some of the best acne face wash options and are available worldwide.
The Lancer Method skincare is a product of over three decades in dermatological practice including celebrities like Ellen Degeneres, Ryan Seacrest, and yes – Kim Kardashian.
The same cleansing system Dr. Lancer recommends to celebrities is now available for delivery to your home.
The Lancer Method works by influencing the skin's natural regenerative cycle and training the skin to renew itself faster, so that it acts younger and looks younger.
In addition to hundreds, even thousands of positive reviews, Kim Kardashian said, "I trust Dr. Lancer as my all-knowing skin care guru. Dr. Lancer and his products are perfection." While not all of us can go to his office in Beverly Hills, we can enjoy his products right here on Amazon.
Christina Moss Naturals Organic Face Wash for Acne
Christina Moss Naturals' facial wash is designed to cleanse thoroughly and leave your skin feeling fresh while eliminating toxic chemicals. The best acne face wash is concentrated so you only need to use a little to remove makeup, dirt and oil. The small, family owned business makes all of their products in the USA with all natural ingredients.
The Christina Moss Naturals' facial wash contains NO harmful chemicals and instead uses flower extracts, essential oils, olive fruit oil, aloe vera juice and coconut oil.
The concentrated formula means you can use less and save more without having to rebuy as frequently.
No SLS, SLES, Parabens, Sulfates, Dyes, or other Synthetic ingredients.
This cleanser is great for everyday use for all skin types, but is one of the best acne face washes especially for dry, acne-prone skin. Over 2000 reviews on Amazon give this product an average of 4.3/5 stars. Most reviewers saw results within just a few days. This makes it easy to recommend the Christina Moss Naturals' facial wash, find it here on Amazon.
Best Acne Face Wash for Combination Skin
 Skinceuticals Replenishing Cleanser
Skinceuticals takes the cake again in the combination skin category. Their Replenishing Cleanser is one of the very best acne face wash options for combination skin to both cleanse and hydrate. It is a creamy cleanse with a rich base and 15% concentrated active ingredients.
Combines ceramides, panthenol, glycerin, and essential oil
This cleanser removes even the most stubborn makeup.
No Parabens, Sulfates, Dyes, or other Synthetic ingredients are ever used by Skinceuticals.
This best acne face wash gets an average of 80% positive reviews, the light lavender, orange and sage scent is a favorite of users because it leaves a nice fresh feeling.  Most reviewers saw positive results in both cleansing and moisturizing. If you have combination skin and need a quality cleanser you can trust, I recommend Skinceuticals without hesitation. Find it here directly from Skinceuticals.
Paula's Choice Clear Pore Normalizing Cleanser 
We mentioned Paula's Choice above in the overall best acne face wash category, and they earn high marks here for the best acne face wash for combination skin as well. The Pore Normalizing Cleanser is formulated to remove all the oil, dead skin, and makeup, but without over drying like other products can. It's also one of the most budget-friendly options.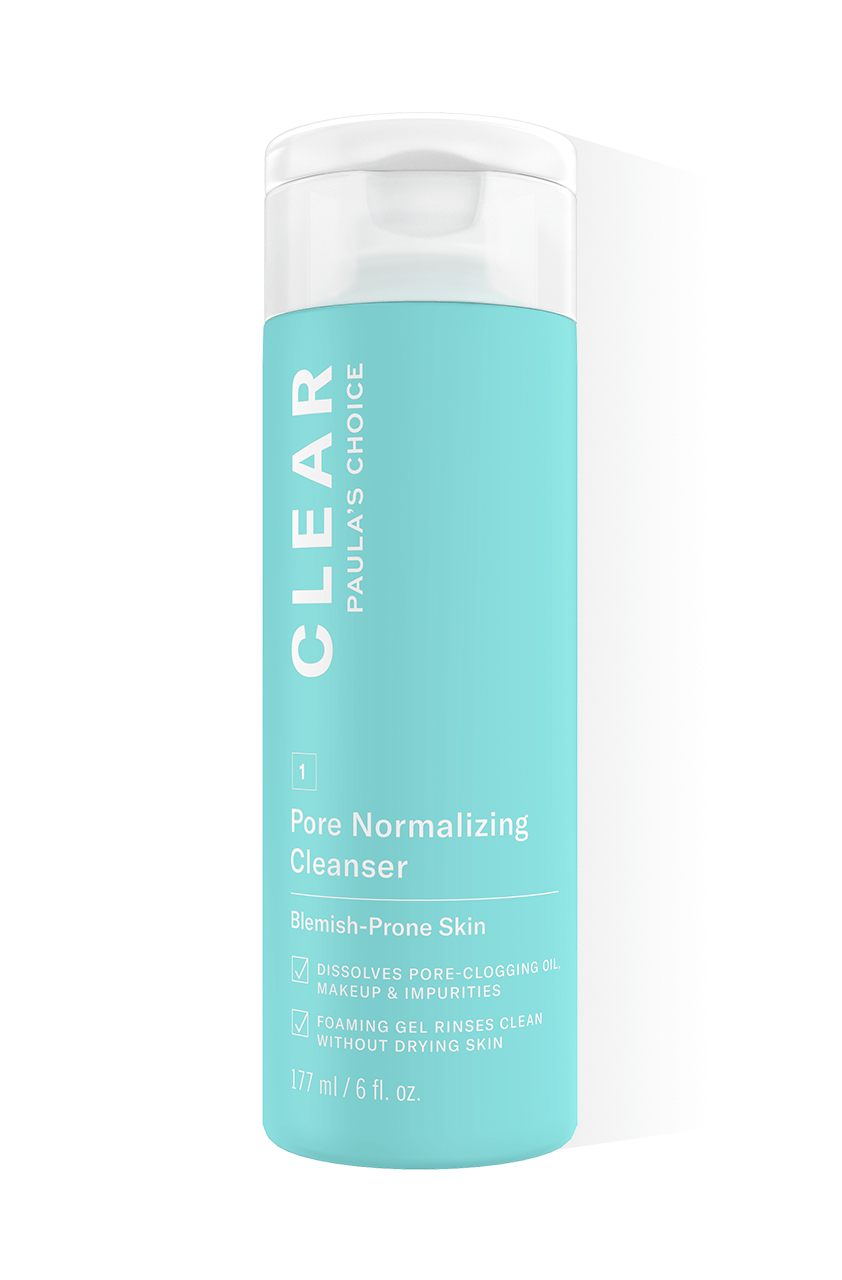 This cleanser fights acne by removing impurities without drying out your skin.
It has a nice gel-like consistency that breaks down oils easily.
It also comes in a formula specifically for men.
Almost 400 reviews give this an average rating of 4.3/5, most notably acclaimed for the lightweight, non-greasy feeling that leaves skin feeling clean, but not tight and uncomfortable. Reviewers also like this cleanser because it has absolutely no scent and visibly improves acne very quickly. Try it for yourself and find it here.
Best Natural Acne Face Wash
Odacite Black Mint Cleanser 
Chances are you've heard about charcoal cleansers and clay masks for acne, which have taken the skincare world by storm. The Odacite Black Mint Face Cleanser combines both of these powerful natural ingredients in the best acne face wash that is completely natural and totally effective.
The black mint gives your face a fresh, invigorating clean that leaves you clear and hydrated.
Activated charcoal and rhassoul clay work together to suck out dirt, grime, and other pore-clogging gunk.
Other natural ingredients include peppermint, tea tree oil, apple amino acids, and potent botanicals.
Odacite only uses fresh, pure and organic ingredients that provide your skin with real nourishment. They are certified by PETA and 92 percent of users give this product a full 5-stars. It's pretty easy to see that this is a slam dunk for natural best acne face wash options. Get it here.
MyChelle Dermaceuticals Clear Skin Cranberry Cleanser 
We know cranberries are good for us and give us plenty of antioxidants and vitamins, but did you also know it's amazing for your skin? Mychelle Dermaceuticals uses Cranberry extract and other natural ingredients to deliver powerful acne-fighting results in one of the best acne face wash options on the market.
The products that are EWG (Environmental Working Group) VERIFIED have undergone the highest and most rigorous evaluation.
Made without GMO, Gluten, parabens, petroleum, Phthalates, Silicones, Sulfates, Urea's, Artificial Fragrances and artificial colors.
Oth