Sick of Being Stuck is reader-supported. When you buy through links on my site, I may earn a commission. Disclosure.
Are you constantly dealing with pimples and acne on your face despite using acne cleansers and spot treatments? Sometimes all the soaps and facial products still don't provide the relief you're looking for, and the ingredient list on those products is downright frightening.
For a natural and effective solution, essential oils for acne can be used directly on the skin to cure even the most stubborn acne.
I previously used every harsh chemical known to man for my stubborn adult acne. But once I started taking a gentler approach, I saw my skin start to lower its guard against my measures to achieve clear skin.
In this article, I am going to explain how these work and the best ones for your situation (and even spill the beans on my own personal elixir)!
But before we dive too far in, remember that clearing your skin has a lot more steps than just pouring tea tree oil all over your face. Check out our post on how to heal acne naturally.
Essential oils are extracts from plants. They naturally occur in nature and are widely used in traditional medicine but are now more mainstream.
Essential oils for acne have been studied extensively in alternative medicine and now even beauty and skincare industries are jumping on the essential oil bandwagon due to their potential effectiveness in the treatment of various skin conditions, including acne.
Why Use Essential Oils for Acne?
There are several reasons why so many people are flocking to essential oils for acne. Many over-the-counter products contain harmful ingredients or preservatives that can make your skin worse, leaving many to lean towards home remedies. Essential oils are one of the best home remedies for acne because these are powerful and natural products.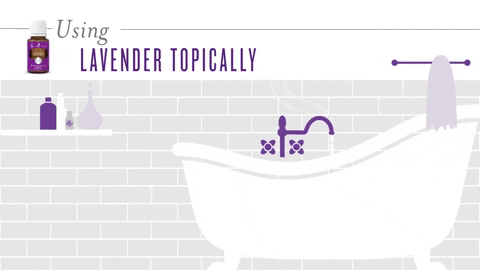 Today, essential oils for acne are easy to find, simple to use, and at an economical price point.  They are one of the best means of treating your skin in a natural, safe method that is still effective against acne.
Best Essential Oils for Acne Prone Skin
Not all essential oils are helpful for acne therapy, but there are a few that can be remarkably effective in calming down the pimples, reducing blackheads, and even lessening the appearance of scars. The next time you find acne erupting, give these natural home remedies for acne a try!
This is one of the most popular essential oils for acne and for good reason. Tea tree oil contains terpineol, which is a natural bacteria fighter. It serves as an anti-inflammatory, antimicrobial and antiseptic. It soothes the skin on contact and reduces current blemishes while keeping future acne at bay. There have been several studies on tea tree oil for acne, all with astounding results.
How to Use: Add 1-2 drops of tea tree oil to a cotton ball and spot treat blemishes, you can dilute it if you need to with a carrier oil. Tea tree oil can also be mixed into face lotions, just be careful to avoid the eye area.
With active compounds like linalyl acetate and geranyl, this is a go-to oil for controlling excess sebum (oil on the face). Clary sage is also an anti-inflammatory and reduces the appearance of wrinkles on mature skin.
How to Use: Use a few small drops of clary sage oil diluted with a carrier oil directly on the skin.
Lemon oil is derived from the peel of the citrus fruit and is very different than lemon juice. Citrus fruit peels have been traditionally used in folk medicine for the treatment of skin disorders for as long as we can remember. Today, lemon essential oil for acne is still used to fight inflammation and free radicals that can contribute to acne and aging of the skin.
How to Use: Use a few drops of lemon oil and one tablespoon of carrier oil for best results, then massage into your skin until fully absorbed. Be careful to dilute well as too much lemon oil can actually end up giving you what looks like a chemical burn.
It is also great for new red pimples. Before you try to pop or mess with a new pimple, put some lemon essential oil on a q-tip and dab onto the blemish. Its lightening properties helps to remove some of the red from the pimple with.
Cinnamon oil has the unique ability to limit the appearance of acne scars and reduce excess oil on the skin. This oil is commonly found in many face washes and face masks, because of its antibacterial and anti-inflammatory properties.
How to use: You can use cinnamon to make a facial oil, or face mask. For an oil – add 1 drop cinnamon to 1 tsp carrier oil and apply to the skin. Mix 1 drop cinnamon with 2 tsp honey to make a mask. Leave for 5-10 minutes and rinse.
Lavender essential oil is known as a calming oil, but it can actually calm breakouts as well. It is great for reducing inflammation and stabilizing your skin's natural oil levels, which deters bacteria growth. It can also help in reducing stress, which may also be a trigger in your breakouts.
How to use: You can apply one drop of lavender and argan oils together directly to the skin. You may also want to create a lavender toner by mixing 10 drops of lavender oil, 4 drops of vitamin- E, and 4 ounces of witch hazel to a spray bottle.
Bergamot is a mixture between a lemon and a sour orange. This citrus oil comes from the peels of the fruit and has several active chemicals that possess powerful antifungal and antibacterial properties. It can promote skin regrowth, reduce scars, and even helps reduce anxiety.
How to use: Bergamot should only be used if you can avoid sunlight for 12 hours after application. Using this at night is usually the best option. Simply mix a few drops with a carrier oil and apply directly to the skin. You can also add 2-3 drops to a clean cotton ball and use it as a spot treatment.
Peppermint oil feels as good as it smells. It brings a cooling effect and instantly relieves inflammation and irritation. Peppermint has antibacterial and antiseptic properties which is why it's often included in several popular anti-acne creams on the market. It can also reduce the itching of the skin, which contributes to acne.
How to use: Always dilute peppermint oil into water or a carrier oil and apply directly to the skin before bed, leave it on overnight. Trust me on this, please make sure to avoid the eye area or else you will not enjoy that sensation!
In a 2018 study of seven essential oils for acne tested, oregano was the most effective against acne. This is because oregano oil has high levels of carvacrol, a compound that inhibits bacterial growth. In the times of ancient Greece, the Greeks used this leafy plant to treat all types of skin symptoms, and it maintains its pure effectiveness today.
How to use: Mix 1/3 oregano oil to 2/3 carrier oil. Use it in a rollerball or apply directly to the skin daily. It is a strong-smelling scent, so I wouldn't recommend applying it right before a date unless they like Italian food 😉
My homemade essential oil recipe for acne elixir
As I mentioned above, I have been using everything under the sun but have found the most success when I consistently use my own essential oil for acne concoction. This is my own personal recipe I use as my acne elixir to calm my skin and get rid of stubborn acne:
Ingredients:
Directions: 
Fill a 30ml dropper bottle halfway with jojoba oil, add in aloe vera to fill the bottle up ⅚ full, then add 10 drops of essential oils and a tsp of niacinamide.
How to use essential oils
Whether you use my recipe or create one of your own, you want to be careful with how you use essential oils. They should always be diluted before use.
Imagine drinking orange juice concentrate rather than regular orange juice. That overly tart drink is not meant to be consumed without first mixing it with water. The same is true for essential oils.
Because essential oils for acne are naturally concentrated, you need to mix them with a carrier oil, especially if you have sensitive skin. This helps to tone down the potency and makes them more comfortable to use.
And please only try one at a time before adding the next in to make sure your body responds well to them!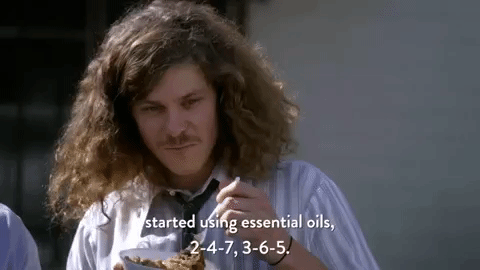 Popular carrier oils include jojoba oil, avocado oil, almond oil, or coconut oil. If you're suffering with acne, your skin is likely deficient in linoleic acid. Black Raspberry Seed oil is a great carrier oil for acne treatment because it's high in linoleic acid. Other good carrier oils for acne are evening primrose oil, grape seed oil, sunflower seed oil, and hemp oil.
Don't forget, essential oils are only as effective as their quality. This is not the place to skimp on price. Quality is much better than quantity in this case. Plus, you only use a few drops at a time so this will last you months to weeks if stored properly.
When should I not use essential oils?
Essential oils are safe to use by everyone of all ages. However, you do want to be sure you're not allergic to the ingredients. For example, if you're allergic to lemons, you'll also be allergic to lemon oil. Essential oils for acne should not ever be ingested but are otherwise completely safe to use.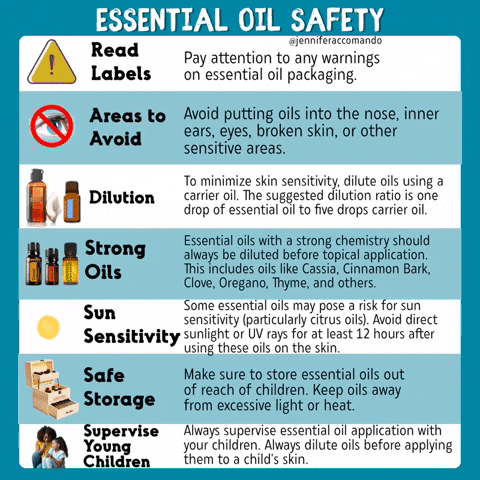 Essential Oil Side Effects and Precautions
Although using essential oils for acne is perfectly safe, there are a few reminders to keep in mind:
Before trying a new oil, put a slight amount of oil on the interior of your forearm and make sure you aren't sensitive to it.
Be sure to dilute the oil sufficiently, especially when using it for kids.
Certain essential oils for acne are phototoxic which means that they can injure the skin with sun coverage. Make sure to use plenty of sunscreen before exposing your skin to the sun.
While essential oils for acne are natural, they can be just as powerful as traditional medications. Don't ever take essential oils for acne by mouth.
Before using essential oils, seek input from your dermatologist, especially if you have any underlying conditions like eczema, rosacea, or psoriasis.
Stop using essential oils for acne immediately if you experience any negative reactions.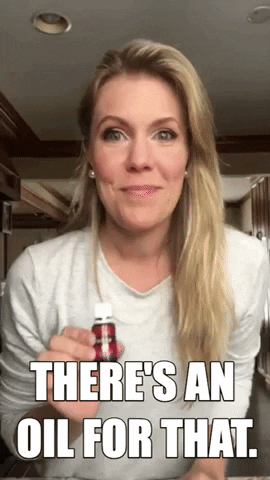 Your Essential Skincare
With so many properties given straight from Mother Nature, it's no wonder why essential oils for acne are used in skincare across the globe. If you're using harsh chemical products to combat breakouts, you could actually be making it worse.
While research into the efficacy of essential oils for acne is ongoing, advocates say with consistent use, oils can help dry up oily skin, moisturize dry skin, and eliminate the worst acne. Even just one drop can have unbelievable benefits with no negative side effects.