Sick of Being Stuck is reader-supported. When you buy through links on my site, I may earn a commission. Disclosure.
Oils? On acne? We've been conditioned to believe that any oil of any kind is the kiss of death for your skin.
That couldn't be further from the truth.
Oils can actually balance your skin and provide you the results you're looking for. Typical cleansers can dry, scathe, irritate and inflame acne while oil cleansing for acne is much more effective and gentle.
I have been off and on using oil cleansing for acne as a part of my acne routine. I have found it to be one of the best ways to cleanse my sensitive skin and keep acne at bay.
Just like me, you will have to experiment with a few different oils until you find the one that works best for you.
Based on how oily your skin is naturally, and your type of acne, I will help educate you as to which oil works best for your acne-prone skin.
My overall favorite oil cleanser is: Just Natural Clear Face Wash Oil (most inexpensive AND effective)

It is filled with a combination of the ingredients below and I have seen amazing results from using on my face and shoulders where pesky zits pop up!
Hopefully, my experience can help you to learn more about how the right oil cleansing for acne can actually help your skin, how to use them, and what to look for. Let's dive in!
How Does Oil Actually Clean Your Skin?
The idea behind oil cleansing for acne is the "dissolution theory". This is similar to fighting fire with fire.
Face oil is able to dissolve and remove other oils on your skin without stripping it dry. Most anti-acne cleansers on the market are designed to strip oils away from your skin. However, that leaves you with dry, sensitive skin that is – you guessed it – more prone to clogged pores, blackheads, and pimples. This cycle perpetuates acne endlessly.
On the other hand, using the oil cleansing method can actually cut out the bad stuff while nourishing your skin and restoring healthy oils, so your body can focus on healing the acne you have without causing more. It is a great step towards curing your acne naturally.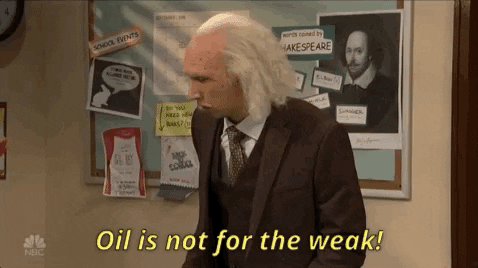 Why Cleanse with Oil if You Have Acne-Prone Skin?
The truth is, oil is not the enemy of your skin. Your natural oils are what keeps your skin healthy and hydrated. Acne is often caused by excess dirt and environmental oils. The goal is to work with your body (not against it) to re-balance the oils on your skin's surface. Facial cleansing oils can do just that.
The oil cleansing for acne method is much gentler on your skin.
First, it dissolves makeup without requiring you to scrub it off and doesn't have harsh detergents that strip your skin of moisture. Best of all, facial oils actually bond to existing oil on the skin and clears pores of excess oil.  When you use a drying cleanser, you're actually causing your oil facial glands to kick into overdrive and produce MORE oil.
Cleansing oils balance your body's own system to clear out excess oil, clean and hydrate.
How to Choose a Cleansing Oil for Acne-Prone Skin
You don't want to just head to the pantry and start lathering your face in olive oil. There are specific facial oils that are designed for skincare.
Be sure you know what you're looking for before you start shopping for facial oils.
Ingredients to Look for…
YES to AHAs and/or BHA. 
This stands for alpha hydroxy acids and beta hydroxy acid. Start with one ingredient at a time, and use it 2–3 times per week at first. This way, you can see if your skin tolerates the first ingredient without dryness or irritation. As long as your skin tolerates it well, you can use both.
YES to Zinc.
Zinc is a powerful ingredient for blocking messy bacteria and preventing fungus from multiplying. This is especially helpful if you sweat a lot or live in a hot, humid climate. Look for terms like zinc soap or zinc pyrithione.
YES to Niacinamide.
Niacinamide is an antioxidant derived from vitamin B3. It fights acne, inflammation, and dark spots all at the same time.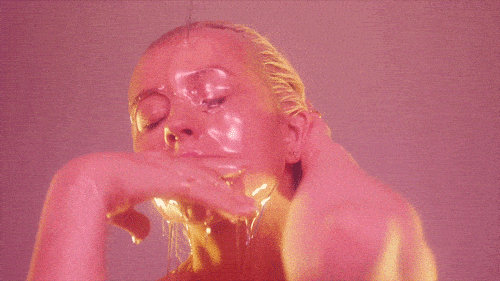 Ingredients to Avoid…
NO to Alcohol.
Alcohol is used in a lot of skincare products, but it dries out and damages the skin. Look for "denatured alcohol" or "alcohol denat" on the ingredients list.
NO to Regular Soaps. 
Use facial soap for your face. Don't substitute for bar soap, hand soap, or body washes. Stick to cleansers that are designed for your face. There is nothing more harsh on acne-prone skin than regular bar soap… *cringes*
NO to Isopropyl, myristate, sodium, laureth, sulfates.
Sometimes you have to dissect through the ingredient list to see what you're getting, but if you notice any of these keywords – steer clear. These pore-clogging ingredients are unfortunately commonly used in some so-called acne products!
NO to Mineral Oil: 
If you have read about the oil cleansing method from Reddit, then just listen for a second. The Reddit article has some great advice but I am not a fan of mineral oil because it can quickly cause subclinical acne.
Mineral Oil (a by-product of petroleum) used to be the golden standard for beauty products, but it causes serious acne. This is when the term "oil-free" started being advertised. Oil-free meant that there was no mineral oil in their products. This was a very good thing, but it gave all oils a bad rap.
The truth is, mineral oil is the worst there is. It clogs pores almost instantly creating subclinical acne, is a known carcinogen, and has been linked to estrogen dominance (hello one of the root causes of acne).
Definitely not this kind of oil either!
Best Oils To Use for Oil Cleansing for Acne
You will find there are a lot of facial oils on the market, but not all are the same. Many plant-based oils help fight acne with antibacterial properties, the ability to soothe inflamed and irritated skin, and deliver a dose of healing nutrients to acne-prone skin.
My favorite is listed below, but these are some other great ones that you can buy the essential oil that you want to try and mix with your favorite carrier oil.
Let's break down the most popular types of oils and which ones you can try based on your skin type:
For Dry Skin: 
Some facial oils are super-rich and hydrating. These are great for dry or dehydrated skin. Here's what to look for:
Almond Oil and Avocado Oil:
These are thicker oils that are great for dry skin. They can be slightly comedogenic (pore-clogging), so try it in a small area first, and be sure to use a high-quality blend. They can be great for dry or dehydrated skin. Because they are thicker, they aren't as good at breaking down makeup – so you may need a gentle makeup remover as well. Almond oil's fatty acids actually help dissolve the sebum that your skin produces, creating cleaner skin and pores
Neem Oil for Acne:
This is a great oil for acne, and it is not drying, so you can use it undiluted as a spot treatment, or mixed with other carrier oils. Neem Oil has a unique smell, which can be off-putting to some users, so mixing it with other oils is often recommended.
For Oily Skin: 
Other facial oils act as antibacterial astringents (like castor oil, tea tree oil, and evening primrose oil). These are best for oily, acne-prone skin.
My Favorite: Again, the Just Natural Skincare Clear Face Wash is my hands-down favorite. It smells good and feels good. It has a combination of the oils above like jojoba oil, aloe vera, castor seed oil, tea tree oil, and Vitamin B5. It has been suggested that when there is a deficiency in Vitamin B5, the body reacts by producing more oil, which may lead to pimples. Vitamin B5 may help with this deficiency and decrease the excess oil that is produced by the body.
Click for more info
If you prefer to DIY your own mixture, then I would start with one of these below that appeals to you the most and just add a carrier oil, like jojoba oil, to make your own oil concoction!
Castor Oil for Acne:
This oil has antibacterial properties, so it can help with acne but it can be very drying. Be sure you purchase castor oil for facial cleansing, not the same one sold as a laxative. They are manufactured differently. Dilute about 1-2 tbsp castor oil in 1 cup carrier oil for cleansing or spot treatment.
Tea Tree Oil:
This is a powerhouse oil and must be diluted before using. It has very good antibacterial properties, and can be super good for acne but is extremely drying, so use carefully only for spot treatment. Dilute just 1/4 TSP of tea tree oil in 1 cup of carrier oil.
Cucumber Seed Oil:
This can be great for oily skin because it leaves the skin shine-free. It also has a high antioxidant content and supports the skins natural oil production, so your skin stops working overtime to produce excess oil. Cucumber seed oil is a moisturizing powerhouse and it even encourages skin cell regeneration. It's also rich in essential fatty acids and Vitamins B and C.
Other Oils: 
Sunflower, safflower, and hemp seed oils: These are all good basic oils for acne-prone or easily clogged skin. keep in mind that if you have any contact allergies to plants, you should be careful with oils from those plants. Hemp seed oil is the oil that I have heard the best things about from others when comparing to the other oils in this category.
Evening Primrose Oil: This is supposedly really good for hormonal acne, but I have never personally tried it. There are many sources supporting evening primrose oil as an effective treatment for atopic dermatitis and eczema but should be used under the direction of your dermatologist.
How to Use the Oil Cleansing Method for Acne
There are two methods for oil cleansing for acne. One involves removing the oil with warm water. The other follows oil removal with a gentle cleanser. You can try both and see which one works best for your skin:
Basic Oil Cleanse for Acne
This method can be used to actually dissolve blackheads, unclog pores, improve cystic acne, tighten pores, and even improve the appearance of wrinkles. Sounds too good to be true? Maybe. Here's how it works:
Apply a blend of castor oil and either olive, jojoba, grapeseed or sunflower oil to dry skin. You can create your own blend, but castor oil should only comprise 50 percent or less of your mixture.
Massage the oil into your skin for 3-5 minutes until you start to feel little grainy bits of dirt, debris, and dead skin cells coming out of your pores.
Drape a hot, wet towel over your face and let the steam sink into your pores until it cools down.
Wipe your face, rinse the towel, and repeat. Steaming and then wipe away the oil several times until all of the oils (and dirt) have been pulled out of the skin and removed.
K-Beauty Double Cleanse
This method still gives the cleaning and hydrating benefits of oil cleansing for acne, but you won't have to worry about any oil being left behind.
Follow the first three steps above for a basic oil cleansing for acne.
Instead of repeating the hot steaming towel process, wash your face with a mild face wash (like Paula's Choice Cleanser).
Pat dry with a towel and apply moisturizer if you feel you need it.
Some cleansing oils products will include surfactants in the formula so that they rinse off cleanly without the need for an additional face wash. If you feel the mixture foams slightly once you add water, you can rest assured it will rinse off cleanly on its own.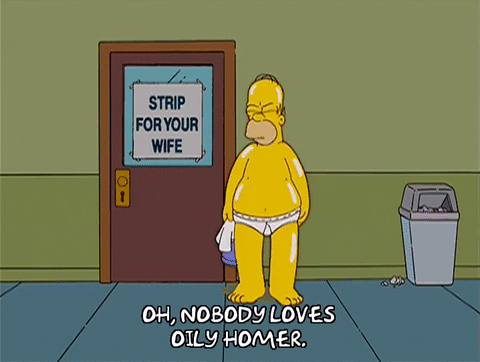 FAQs For Acne Oil Cleansing
How often should you oil cleanse for acne?
You should do an oil cleansing for acne no more than once a day. Ideally, if you don't sweat like crazy during the night, then you can just wash your face before bed to avoid over-cleansing. It's important to try it on your skin a few times and watch for areas of irritation. It's certainly safe to do every day, but you can also do it only as a special treatment 1-2 times a week.
What to expect after oil cleansing for acne method
Your skin should be soft and clean. Depending on how it feels, you may want to add a moisturizer, or you may not need to. Watch carefully for any allergic reactions.
My biggest recommendation is to oil cleanse, apply your favorite retinol, and finally add a moisturizer at the end if you still feel dry. DON'T go to bed with tight dry skin (Trans Epidermal Water Loss – TEWL) – this is what we are trying to avoid with an oil cleansing for acne. Instead, add a few drops of your favorite oil mixture (mine is below) and blot your face with a towel if there is any extra after 10 minutes that didn't soak into your skin!
If you like this moisturizer, all of the ingredients are listed in this article.
Another great moisturizer if you don't feel like making your own would be this amazing one from Healing Natural Oils, it is there Simply Face Oil. Rich in antioxidants, vitamins, minerals, and Omega fatty acids, all essential for the balance and nourishment of your skin. This formula is made from a blend of pure natural cold pressed and expeller pressed precious oils with a small molecular structure so they can penetrate the skin.
How long does it take for oil cleansing to clear up acne?
While there shouldn't be any "purging" or breakouts due to using a new product, it's important to continue to use for up to 2 weeks to allow your skin time to adjust. If you notice an increase in breakouts, follow your oil routine with a gentle cleanser to ensure you are removing all the oils.
If you notice that you are starting to get subclinical acne even worse, then you need to pick a different oil. The oils that I named are all high in linoleic acid. Linoleic acid naturally reduces sebum (oil) production, so you may have to mess with the percentage of yours to get the right combo.
How to avoid detox breakouts when including oil cleansing in your routine?
First, be sure you are using the right oils. Make sure they are low on the comedogenic scale, and they are the right ones for your skin type. Test on the inside of your arm before applying to your face.
Next, if you have been using drugstore products for a while, you might want to do a skin detox for 6-8 weeks before you dive into oil cleansing for acne.
How could oil cleansing make my acne worse?
Oil cleansing for acne actually leaves oil behind on your skin. These good oils are beneficial for your skin, but if you don't eliminate all of the dirty oil – you can clog your pores unknowingly. If you're worried about this, follow up your oil cleansing for acne with a very mild facial cleanser.
Don't forget about making sure you do not leave the house or go to bed with super dry skin. Dewy is the look you are going for when it comes to a healthy acne-free face. REMEMBER THE MOISTURIZER!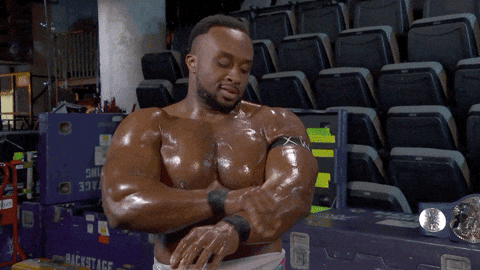 What About Oil Cleansing and Hormonal Cystic Acne?
Hormonal cystic acne is a different type of acne that can't always be cured 100% with skincare changes. However, oil cleansing for acne has been shown to make a huge difference in hormonal cystic acne because the new oils you introduce on your skin can replace the old oils deep in your pores and clear it out.
Building Blocks for Beautiful Skin
Purposely putting oil on your face every day is a scary concept, I get it.  However, I'm here to tell you that it works and the results will clearly speak for themselves.
Many women, including myself, have discovered oil cleansing for acne as a way to gently remove makeup, soothe sensitive skin, and tame unrelenting breakouts all at once without harsh chemicals or detergents.
When you use oil cleansing for acne-prone skin, you are actually changing your skin's behavior. You are altering the oil production to make room for healthy oils, protecting the natural lipid layer of your skin, avoiding Trans Epidermal Water Loss, and removing harmful bacteria to create a sustainable skincare routine that will serve you for years to come.
Oil up my friends!